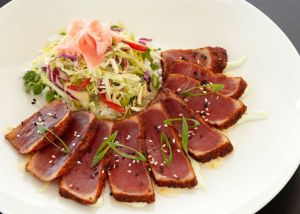 By Matt Sorrell
Ladue News: Food & Dining
Cooper's Hawk Winery & Restaurant will open its first-ever St. Louis location next month in Town & Country. The restaurant, in Town and Country Crossing, will feature award-winning wines in a Napa-style tasting-room setting, as well as contemporary American fare. Opening is set for Dec. 12.
The second location of Potbelly Sandwich Shop is now open at 12 S. Bemiston Ave. in downtown Clayton, the former home of The Fatted Calf. The first location of the Chicago-based chain opened last year in Creve Coeur.
The newly opened Strange Donuts in Maplewood already is garnering national attention. It recently got a slot on Eater.com's list of 18 Hottest Donut Shops in America Right Now. The site calls specific attention to the Strange Hog Burger, a collaboration with Quincy Street Bistro, which features a donut stuffed with one of Quincy Street's hog burger patties and topped with maple glaze, caramelized onions and cheese whiz. Also making national news, Missouri Baking Company, which was named 39th best bakery in the U.S by The Daily Meal.
Civil Life Brewing Company has expanded its hours and offerings: The South City favorite recently announced it'll be keeping Sunday hours from noon to 6 p.m., and has a new selection of fine soups in addition to the regular menu.
We recently got word that Angel's Envy bourbon, which was awarded 98 points by Wine Enthusiast (the highest score ever bestowed on a bourbon), is now available around town. We got to sample this fine whiskey earlier this year, and it's definitely a keeper!
STL Culinary Tours has added another neighborhood to its roster. On Saturday, Dec. 7, starting at noon, guests can enjoy the Demun Gastro Tour, which will include stops at The Restaurant at The Cheshire, Demun Oyster Bar, Kaldi's Coffee and The Fox & Hound Tavern. For info and tickets, visit StlCulinaryTours.com.
L'Ecole Culinaire is partnering with Lydia's House for the 7th Annual Gingerbread House Contest. The event brings together chefs from a host of area bakeries and restaurants, as well as culinary students of all levels to compete against each other with their edible, handmade gingerbread houses, which are on display at Plaza Frontenac through this weekend. Winners will be announced Dec. 1.